Procedures & Fines
The Town of Kiowa court docket is the schedule of the court. Defendants will be expected to adhere to the procedures and protocol of the court at all times, including proper attire.
All mobile devices, including phones, must be turned off. Photography and audio recordings are prohibited. No food or drink will be allowed in the court room at any time.
CLICK HERE TO PAY ONLINE
You have just received an official citation. Please read over this information carefully as this will be the only notification you will receive. Your privilege to drive depends upon your compliance with the following instructions.
DO NOT SEND CASH OR PERSONAL CHECKS
You may pay your citation at www.myfinepayment.com, by phone by calling 877-591-8768 or in the mail by MONEY ORDER or CASHIER'S CHECK ONLY! Make all money orders or cashier's checks payable to Kiowa Court Clerk. Make sure to put a copy of you citation in with your payment. Payments must be RECEIVED by end of business (4:30 pm) on court date.
Mail Payments to:
KIOWA POLICE DEPARTMENT
PO Box 69
Kiowa, Oklahoma 74553
(Postmarked dates will not be accepted) ADDITIONAL FEES MAY BE ACCRUED:
If payment is not received by close of business on court date a FTA WILL BE ISSUED AND $30.00 will be added to each ticket; a letter will be mailed out and a $10 mailing fee will be added.If payment is not received 10 days after court a $200 administrative fee is applied, your license will be suspended and a Warrant will be issued.
Please look at the sample below for ticket number and court date.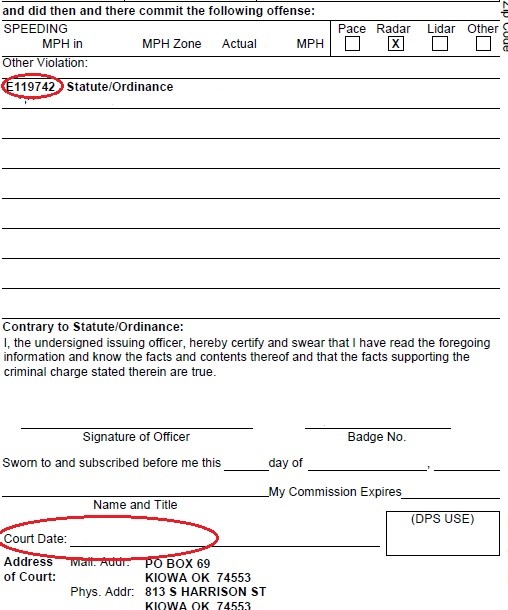 You must either pay your fine by the court date printed on your ticket or you must appear in court.
INSURANCE TICKETS WILL NOT BE AUTOMATICALLY DISMISSED WITH PROOF OF INSURANCE.
YOU MUST CALL THE COURT CLERKS OFFICE.
Insurance Verification Must Be In Our Office by the Day before Your Court Date
Insurance Verification Must Come Directly From the Insurance Company to Be Accepted For Dismissal
PLEASE FAX PROOF OF REPAIR FOR DEFECTIVE EQUIPMENT WITHIN 48 HOURS OF YOUR CITATION OR THE TICKET WILL NOT BE DISMISSED. This needs to be either an invoice from a garage or have it inspected to verify it's in working order.
Contact the court for questions about Deferred Adjudication to possibly keep your ticket(s) off of your record. (An additional Deferred Adjudication fee of $100 will be added to your ticket if you select this option.) Speeding 26mph and over above the posted speed limit is not eligible for Deferred Adjudication. (Processing fees do apply)
*If you wish to contest this citation, and feel that you were not at fault, please contact our office 14 days before the court date.
*You must call the day before your court date to verify that court will still be in session on the scheduled date and time. (Court may cancel or continue without notice)